This summer we bring to the traders a new offer with many benefits through a private group named Pro Chat Group.
What is it?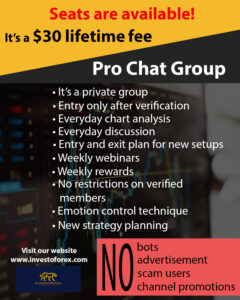 It is a lifetime
membership offer that comes with many benefits such as everyday chart analysis, get expert's consultation, signals on major currencies and much more. There is a learning experience in this membership besides the usual forex services such as signals. Learn the strategy that best suits your needs. You can grab all these benefits at only $30 one-time fee.
Visit our website www.investoforex.com and make your way to one of the best offer this summer.
Learn. Earn. Grow.
Happy trading.